You may have heard the term automation before. But have you heard of automated workflows in waste collection? And no, we're not talking about automated robotic sorting of different waste fractions. We're talking about automating repetitive tasks. Every process has a workflow to complete it. However, many workflows are filled with tasks that are manual and repetitive which can disrupt or slow your operations.  
In this article, you'll learn what automated workflows are and how WasteHero is helping local authorities and private haulers to automate processes in waste collection operations.
To begin with, what exactly is automation?
Automation is basically any process where human efforts are minimized. When it comes to workflow automation these are processes that are optimised by replacing manual tasks with software that executes all or part of a process. Today, this is usually done through workflow automation software that consists of low-code, drag-and-drop features and adoption-friendly UIs.
To give an example of how automated workflows in waste collection work, think about the process of managing a broken bin. The below image illustrates the process with and without workflow automation.
Without:

With:

Types of Automated Workflows in Waste Collection
The WasteHero solution supports a unique opportunity to automate several work processes around route planning, event registration, task management, communication, ticket handling, and much more. The automation is based on a "rule engine", which makes it simple and flexible to set up rules for many of the system's transactions. The customer can define which and how many steps in the process are to be automated and therefore has great flexibility in the work with optimizations of daily and time-consuming workflows.
Let's take the example of a customer ordering an extra emptying as a process. The illustration below shows a fully automated and partially automated process: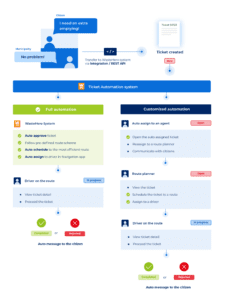 As the example shows, the local authority defines rules for each step in the process. These rules could be: What should happen to the order when it is created? What flow should it follow? Who should receive and process the assignment? Who should be advised? etc.
Local authorities can create and define an infinite number of processes. It is a simple and user-friendly task to create and maintain rules and it does not require consulting assistance from the supplier.
Automation of work processes is a key element in the WasteHero solution. Automating repetitive tasks can help to improve efficiency and reduce errors. By automating time-consuming yet simple tasks, local authorities can achieve a better level of service for customers with fewer resources.
Want to learn more about how automated workflows can help your business? Schedule a meeting today.
---