Universitetscampusser
From campus gardens and dorms to classroom buildings and auditoriums, thousands of students and staff filter in and out of college buildings on a daily basis. Pristine campuses raise student morale and leave a lasting impression on visitors. As a result, maintaining a clean campus through data-driven solutions should be regarded as an important aspect of university maintenance and also as an opportunity to implement sustainable initiatives within waste management.
Major Challenges in Campus Waste Collection

Unnecessary Collection Trips
Maintenance and cleaning teams that service large campuses often drive lengthy daily collection routes that include all bins, despite the containers being half empty! This wastes time and labour resources that could be better utilised elsewhere.

Tight Budgets & Overflowing Bins
Universities often have limited labour resources and tight budgets for waste collection on campus. Therefore, it can be challenging to collect bins regularly, leading to overflowing rubbish, damaging the campus's aesthetics and attracting foul smells and vermin.

No Method to Measure Waste Generation
Many universities are eager to introduce sustainable initiatives on campus, such as increasing recycling rates and reducing overall waste generation. However, they can't measure the impact of their sustainability efforts without first tracking their waste data.
Digital Solutions with WasteHero
Empowering universities to cut costs through data-driven waste collection and track the success of sustainable initiatives.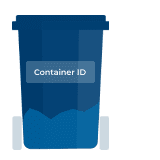 01
Digitalise Your Waste Operations
Containers are digitalised on the WasteHero Platform to help gain an operational overview and visualise bin locations.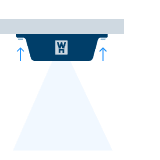 02
Track Fill-Levels with Smart Bin Sensors
Track and analyse fill-levels and waste generation patterns with the installation of smart bin sensors in bins.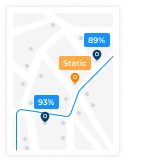 03
Collect Bins at the Optimal Time
Campus waste collectors view a dashboard of the fill-level of bins, ensuring that only bins that need emptying are collected.
04
Track Waste Generation Data
Data on waste generation, recycling rates and collection efficiency is tracked through the cloud waste monitoring platform.
Benefits of Data-Driven Waste Collection

Empower Efficient Waste Collection
Universities obtain insight into the fill-level of bins to optimise schedules to collect bins at the right time, improving resource allocation for significant fuel and labour savings.

Eliminate Overflowing Bins
With the introduction of efficient collection schedules, overflowing bins are mitigated. This ensures a clean and aesthetically pleasing campus for students, staff and visitors.

Deep Insights Into Waste Streams
Universities gain full insight into their waste generation and recycling volumes to help benchmark current efforts and assess the effectiveness of initiatives going forward.
Save 40% on Labour and Fuel Consumption Costs
Cut Time Spent Collecting Waste by 50%
Eliminate Overflowing Bin Events
Ready to empower efficient waste collection? Book a demo today to get started!