Stadioner og arrangementer
Stadiums and venues worldwide host massive sporting events and major music festivals, with thousands of fans clocking in and out every day. With that kind of capacity, generating vast amounts of waste becomes inevitable. This poses significant challenges in running an optimised, sustainable and cost-efficient waste collection operation.
Major Challenges in Venue Waste Collection

High Traffic & Unpredictable Fill Rates
Stadiums and other mass capacity venues unavoidably generate large volumes of waste, often at an unpredictable filling rate. Without understanding waste generation patterns and hot spots, it can be difficult to plan the best collection time and container infrastructure.

Health & Safety Concerns
Late collection of bins results in overflowing rubbish that poses health risks not only to patrons of the venue, but also to the staff collecting the waste. Conversely, if waste is collected too early, staff are allocated inefficiently, putting a strain on limited labour resources.

Unable to Measure Sustainable Initiatives
Many venue managers are increasingly eager to introduce initiatives to meet sustainability goals, such as the improvement of recycling rates or even zero waste to landfills, but are missing a reliable method to measure the progress of their efforts.
Digital Solutions with WasteHero
Empowering venues to cut costs and improve the patron experience through data-driven waste collection.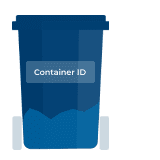 01
Digitalise Your Waste Operations
Containers are digitalised on the WasteHero Platform to help gain an operational overview and visualise bin locations.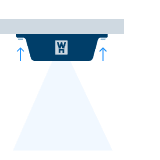 02
Track Fill-Levels with Smart Bin Sensors
Track and analyse fill-levels and waste generation patterns with the installation of smart bin sensors in bins.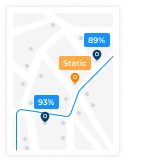 03
Collect Bins at the Optimal Time
Venue staff can view a dashboard or receive alerts to know the fill-level of bins, ensuring that bins are collected as soon as they're full.
04
Track Patron Waste Generation Data
Data on waste generation hot spots, recycling rates and collection efficiency is tracked through the cloud waste monitoring platform.
Benefits of Data-Driven Waste Collection

Safe & Efficient Bin Collection
With the introduction of data-driven collection, bins are collected at the right time, ensuring appropriate staff allocation and the mitigation of overflowing bins are mitigated. This ensures a safe and clean environment for both patrons and venue staff.

Optimise Bin Infrastructure & Placement
Review heat maps and fill-level graphs to understand areas within the venue that experience high volumes of waste generation to inform bin placement and capacity to better cater to the behaviour of venue patrons.

Deep Insights Into Waste Streams
Review deep insights into patron behaviour on waste generation and recycling rates to measure the impact of introduced sustainable waste management initiatives.
Optimise Bin Placement Based on Behaviour
Save up to 40% on Waste Collection Costs
Eliminate Overflowing Bin Events
Ready to empower efficient waste collection? Book a demo today to get started!