Local authorities are shifting towards using digital solutions for their waste collection operations. While this shift improves efficiency and reduces costs, a large part of success relies on the adoption of technology by daily users. Today, we speak to WasteHero's Digital Transformation Manager Bjørn Caspersen, who shares his approach to ensure drivers get onboard with in-cab tech!
---
What is the best way to onboard employees to new technology?
The best way to onboard employees to new technology is in 5 steps: communicate, train, test, support and monitor, according to Bjørn Caspersen, Digital Transformation Manager at WasteHero.
We spoke to Bjørn and picked his brain on how to master the art of onboarding digital technologies in an industry that's notorious for manual, old-school processes and attitudes reflecting the sentiment 'but we've always done it this way'.
What are the biggest obstacles when onboarding drivers to digital in-cab technology?
"I would say the biggest obstacles come from a lack of understanding and resistance to change from the drivers. You have to remember that most of these drivers have been in the field for decades. It can be hard to convince them that there's a better way to do things if they feel the way they're currently working isn't 'broken'.
"I've found that before we even start demonstrating the new technology, it's beneficial to have a forum where we talk about the processes or bottlenecks that frustrate them throughout their work day. There's typically a lot the drivers want to talk about here! 
So then you're positioned to come from this place of 'we're going to help you overcome these frustrations' rather than 'well your management has made this decision, so you have to get onboard'. 
Once you help them understand how the new solution will make their daily life easier, there's far less resistance to using it."
So considering these obstacles, can you walk us through your approach to ensure a smooth onboarding process for drivers?
Sure! I follow a structured approach that can be broken down into 5 steps; communicate, train, test, support and monitor. It's not a precise step-by-step list. You should be monitoring and providing support throughout the entire process, for example. 
#1 Communicate
The first step is to communicate with the drivers and with the stakeholders within the organisation. I will always create a detailed onboarding schedule that outlines the training and support provided to the drivers. This will ensure that everyone is on the same page and that the process is as smooth as possible.
It's also here that clearly communicating how the features of the new technology translate into benefits for the drivers is extremely important. We want to talk with drivers about their work processes, understand exactly what frustrates them, and communicate how the new solution solves this.
This helps drivers understand how the technology will improve their job performance and make their work easier. If you do a good enough job, the drivers will even be excited at the prospect of using the new tech! 
#2 Train
The next part of my approach involves in-person training sessions. I've found that keeping the training very simple works well. I know this app inside and out, but I'll always revert back to the mind frame that I'm seeing it for the first time when I create training programs.
Patience is also key here. The drivers are unfamiliar with the app, and they're going to have a lot of questions. Allow for at least 2 hours for the first session, and take the opportunity for a second session if the project time permits. The crew will also appreciate it if you arrange some lunch or snacks for them!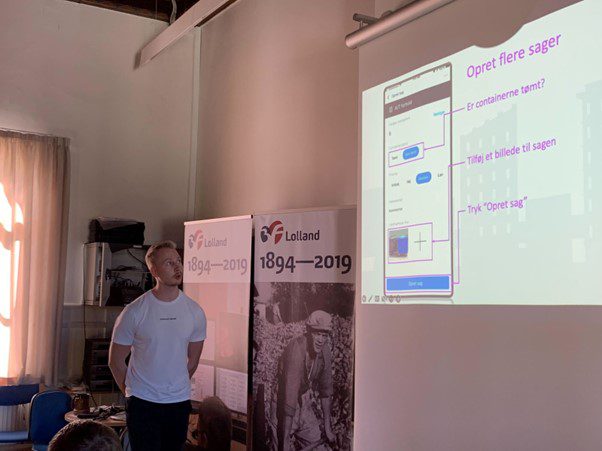 #3 Test
As the next step, I like to test out the app in a pilot program with a small group of drivers before rolling it out to the entire team. This gives us the chance to identify any bugs or issues that need to be addressed before the full launch. 
#4 Support
Support is critical when it's time for the full launch. On the first couple of days of going fully operational, we'll be in what we like to call hyper-care mode. If it's approved by management, we'll even join the drivers in the trucks to provide support in person and in real time.
In addition, I'll assign a dedicated support team to answer any questions the drivers may have during the onboarding process. We've embedded a live support chat into our app so that drivers can quickly access the help they need.
You'll need to continuously provide support and check-ins to ensure the technology is being used to its full potential, and address any new issues or concerns that may arise.
#5 Monitor
Finally, we'll monitor the progress of the onboarding process and make any necessary adjustments.
So I have key milestones I want to achieve at each step. Do the drivers understand the benefits? Can they see how it will help their daily workflow? Are they confident in using the main features of the app? Do they know where to go for help? 
Monitoring of the onboarding process is not the last step. You must consider whether you're reaching these milestones throughout the process and adjust accordingly. All of this helps to ensure that the drivers are comfortable and confident in using the new technology.
Recap: The 5 Steps to Mastering Onboarding
If you can master these 5 steps, you can master the onboarding of your employees to new digital technologies. By communicating, training, testing, supporting and monitoring, you'll be on the right track to successfully implementing a digital transformation. 
---
Looking for mobile in-cab technology to support your waste collection drivers? 
WasteHero has reimagined an up-to-date 360° SaaS Suite helping cities manage waste collection, reduce operative time & engage citizens effortlessly.
Schedule a meeting with WasteHero today!  
---