Intelligent Route Optimization
Intelligent Route Optimisation
The Most Powerful
Intelligent Route Optimisation

Tool for Municipal Waste Management
The intelligent route optimisation tool powered by AI and machine learning, built to overcome the complex challenges of municipal waste management. Designed in collaboration with leading waste experts and local authorities.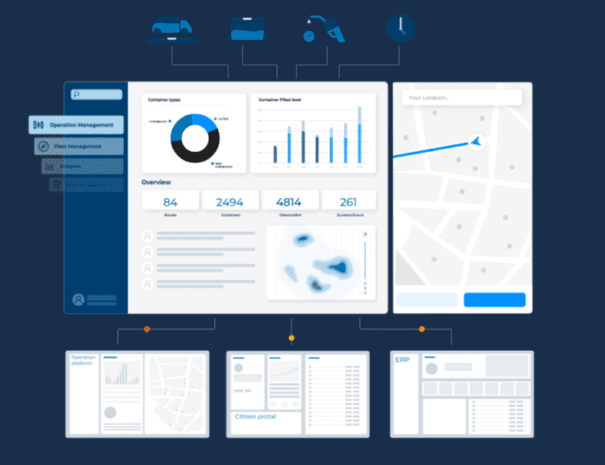 Superior routing,

superior business performance.
Six important levers work together to achieve environmental, economic and service-based results for your organisation. WasteHero's routing engine takes a holistic approach for the intelligent optimisation of waste collection operations. Find out how below.
1. Define Fleet Constraints
The core routing engine first takes into account all container and fleet assets, as well as the user-defined constraints applied to these assets.

This includes vehicle volume capacity and availability, driver permissions and rosters, depot locations and opening hours, container type / vehicle coupling and time intervals and priorities

The core route engine considers all constraints to ensure waste is collected by a suitable vehicle and driver, and deposited to the correct depot location.
2. Import Historical Weight Data
The routing engine is capable of considering weight data from your previous operation system. Simply upload your historical container weight data in csv. format and route schedules will be automatically optimised based on your data.
3. Leverage Data Inputs from Fleet Technology
Leverage in-cab technology, sensors and IoT fleet tracking devices to enable data collection for comprehensive route optimisation. Solutions available to enhance route optimisation include:

Mobile In-Cab Technology tracking live route progression, location, emptying times and manual entry of weight data



Smart Bin Sensors to measure container fill-level


Onboard weighing systems to collect container weight information


CAN bus telemetrics system to understand vehicle speed, fuel consumption, driver performance


GPS devices for precise geofencing data, speed, direction of movement, and emptying times (recycling site, depot, container pickups)
4. Apply AI & Machine Learning Techniques
By applying machine learning to historical data, collected data and trends, our prediction algorithm can forecast the optimal collection time for containers.

Enhanced AI empowers data-driven recommendations, such as alternate routes during high traffic periods.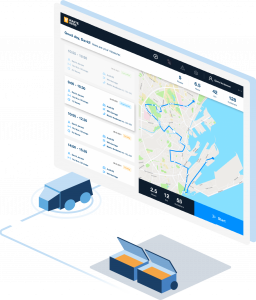 5. Incorporation of Real-Time Events
WasteHero's Mobile In-Cab Technology provides drivers with a tool to follow optimised collection routes, whilst collecting valuable data on live route progression.
The mobile in-cab display provides directions that are responsive to roster changes, traffic and weather conditions, and urgent customer requests. When adding extra containers to live routes, the route is again reoptimised without having to contact the driver.
6. Determine Optimisation Parameters
Align your routing strategy with your organisational strategy. Specify routing optimization parameters from three categories:


Service – focused on ensuring customer satisfaction.
Economic – focused on reduction of costs.
Environmental – focused on reduction of CO2 emissions.

Each category has many sub optimization parameters that can be enabled. You can even apply different optimisation parameters depending on the waste related challenges in particular neighbourhoods.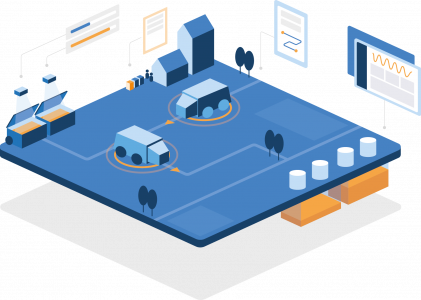 Robust, Agile & Responsive Software
Capable of simultaneous handling of multiple data inputs, thousands of container assets, and real-time dynamic updates.

Intuitive & User-Friendly
Don't compromise on usability for functionality. WasteHero provides the features you need, with the userface you want.

Aligns With Organisational Strategy
There's no singular best route. Input optimisation preferences to ensure your routing is aligned with your own organisational strategy.
Overcome the complexities of municipal waste management with powerful & intelligent route optimisation
Superior routing intelligence

for economic, service, and environmental benefits
Fleet cost savings

Cost reductions for fuel and wages.

Increased routing efficiency

Optimised container collections to avoid overflows and collecting empty bins.

Increased customer satisfaction

Improved service levels results in reduction of complaints and support resources required.

Environmental benefits

Meet your emission reduction targets with reduced mileage and driving time.

Maximise utilisation of resources

Reduction in the number of vehicles and driver shifts needed for operations.

Eliminate administrative burden

Process optimisations that decrease time spent on transport planning, execution and follow up.
At Affald & Genbrug in Fredericia Municipality, we have experienced an agile and professional collaboration with WasteHero. WasteHero's strength comes from their powerful solution, development skills and their flexibility, which allows us to tailor our waste management based on our actual needs.
Kim Ankjær Nielsen, Fredericia Kommune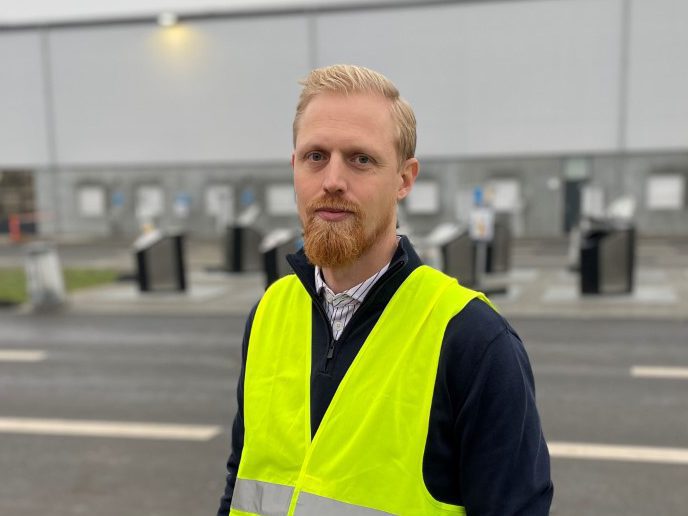 WasteHero did an initial analysis of our waste management and found that our containers were only 40% full on average when they were emptied. The initial installation secured 53% less collections, which provided us with significant savings and reduced CO2 emissions.
Bjarne Kallesø, Civilingeniør at Genbrug og Affald, Teknik og Miljø, Herning Kommune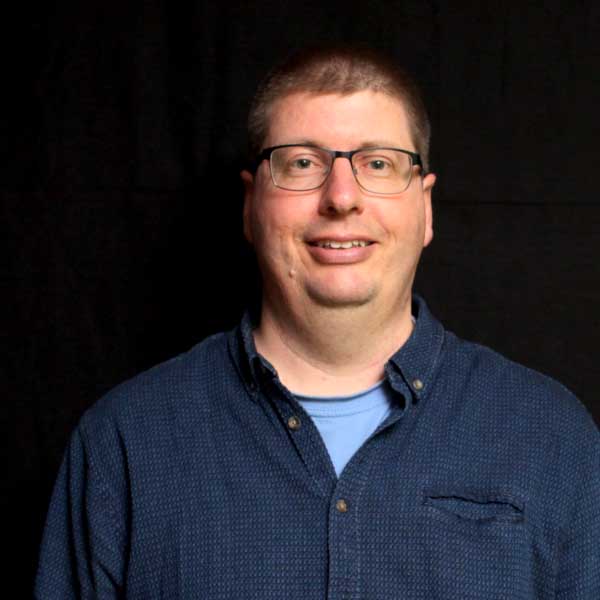 WasteHero has reduced our total number of collections across all waste fractions by an average of 40%. 
Christian Møller Jensen, Aalborg Forsyning