WasteHero attended Avfall Sverige's Annual Meeting across two action-packed days from 31st June to 1st July in Norrköping, Sweden. The meeting brought together over 500 attendees from municipalities across the country to discuss their roles and responsibilities in waste management, as well as how to enable innovation and sustainable development.
---
Simon Schøler and Jacob Nygaard represented WasteHero at the event, which helped to set a record number of 40 exhibitors for the meeting. Simon and Jacob were delighted to meet many of the Swedish Members of the Waste Management Branch and hear about their daily tasks and challenges. 
But perhaps you're wondering why we travelled over to Sweden in the first place?
Well, it turns out our Swedish cousin is not so different from us.
There's a similar focus on sustainability and change in regulatory standards in the municipal waste management sector, which together are driving the need for digital solutions.
Swedish municipalities have been limited by choice in software solutions for waste collection and citizen management, which has inhibited their ability to take advantage of new technologies. 
It's a very similar story to what we hear in Denmark. Municipalities are tired of standalone solutions that aren't capable of integrating with other systems, resulting in a slew of manual processes.
These manual processes mean that a lot of time is taken to carry out simple daily tasks. Even a simple activity such as responding to a customer's request for fixing a bin or organising bulk waste collection can take administrators days to resolve.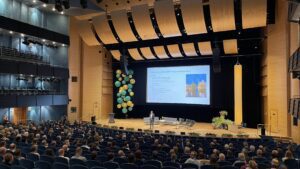 WasteHero delivers an operating system that is built for every stakeholder in the municipal waste management process, from administrators to route planners, and drivers to citizens. So naturally, we wanted to let Swedish municipalities know that there's a better way.
So what was the feedback from Swedish municipalities? 
The top line is they're curious, interested and receptive to the new and innovative solutions that WasteHero is delivering. WasteHero's approach of open, flexible, data-driven and automated systems for waste management really struck a chord with the Swedish market. 
Simon and Jacob have started a dialogue with municipalities that want to help bring WasteHero to Sweden to challenge the existing way of doing things.
"WasteHero's focus on enabling a more data-driven approach to waste management based on user-friendly and integrative solutions and modules was a perfect fit for this agenda."
– Jacob Nygaard
The bottom line is that we need to learn from each other. There's no one-size-fits-all solution and the more we can interact and discuss with each other, the better outcomes we'll see in municipal waste management.
We must also say thank you to Avfall Sverige for hosting an insightful Annual Meeting. We're already looking forward to #AvfallSverige2023!
Eager to learn more about WasteHero's digital solutions for municipal waste management?
Connect with Simon Schøler or Jacob Nygaard on LinkedIn or send a message to WasteHero and we'll make sure it lands in the right hands.