Hvad er den bedste måde at introducere medarbejdere til ny teknologi på?
Den bedste måde at onboarde medarbejdere til ny teknologi på, er i 5 trin: kommunikere, træne, teste, støtte og overvåge, ifølge Bjørn Caspersen, Digital Transformation Manager hos WasteHero.
Vi talte med Bjørn om hans holdning til, hvordan man mestrer kunsten at onboarde digitale teknologier i en branche, der er berygtet for manuelle, gammeldags processer og holdninger, der afspejler følelsen "men vi har altid gjort det på denne måde".
Hvad er de største forhindringer, når chauffører skal overgå til digital teknologi i vognen?
"Jeg vil sige, at de største hindringer kommer fra manglende forståelse og modstand mod forandring fra chaufførernes side. Man skal huske, at de fleste af disse chauffører har været i marken i årtier. Det kan være svært at overbevise dem om, at der er en bedre måde at gøre tingene på, hvis de føler, at den måde, de arbejder på i øjeblikket, ikke er "ødelagt".
"Jeg har fundet ud af, at før vi overhovedet begynder at demonstrere den nye teknologi, er det fordelagtigt at have et forum, hvor vi taler om de processer eller flaskehalse, som frustrerer dem i løbet af deres arbejdsdag. Her er der typisk meget, som chaufførerne gerne vil tale om!
Så er man i stand til at komme fra et sted, hvor man siger "vi vil hjælpe jer med at overvinde disse frustrationer" i stedet for "jeres ledelse har truffet denne beslutning, så I er nødt til at være med på vognen".
Når du hjælper dem med at forstå, hvordan den nye løsning vil gøre deres hverdag lettere, er der langt mindre modstand mod at bruge den."
Så i betragtning af disse forhindringer, kan du så gennemgå din tilgang til at sikre en gnidningsløs onboarding-proces for chaufførerne?
Selvfølgelig! Jeg følger en struktureret tilgang, der kan opdeles i fem trin: kommunikere, uddanne, teste, støtte og overvåge. Det er ikke en præcis trin-for-trin-liste. Du bør f.eks. overvåge og yde støtte under hele processen.
#1 Kommunikere
Det første skridt er at kommunikere med chaufførerne og med interessenterne i organisationen. Jeg vil altid oprette en detaljeret onboarding-plan, der beskriver den træning og støtte, som chaufførerne får. Dette vil sikre, at alle er på samme side, og at processen forløber så smidigt som muligt.
Det er også her, at det er ekstremt vigtigt at kommunikere klart og tydeligt, hvordan funktionerne i den nye teknologi omsættes til fordel for chaufførerne. Vi ønsker at tale med chaufførerne om deres arbejdsprocesser, forstå præcis, hvad der frustrerer dem, og kommunikere, hvordan den nye løsning løser dette.
Det hjælper chaufførerne til at forstå, hvordan teknologien vil forbedre deres arbejdsindsats og gøre deres arbejde lettere. Hvis du gør et godt nok stykke arbejde, vil chaufførerne endda blive begejstrede ved udsigten til at bruge den nye teknologi!
#2 Train
Den næste del af min tilgang omfatter personlige træningssessioner. Jeg har fundet ud af, at det virker godt at holde træningen meget enkel. Jeg kender denne app ud og ind, men jeg vender altid tilbage til den tankegang, at jeg ser den for første gang, når jeg laver træningsprogrammer.
Tålmodighed er også nøglen her. Chaufførerne er ikke fortrolige med appen, og de vil have mange spørgsmål. Afsæt mindst 2 timer til den første session, og benyt lejligheden til en anden session, hvis projekttiden tillader det. Mandskabet vil også sætte pris på, hvis du sørger for frokost eller snacks til dem!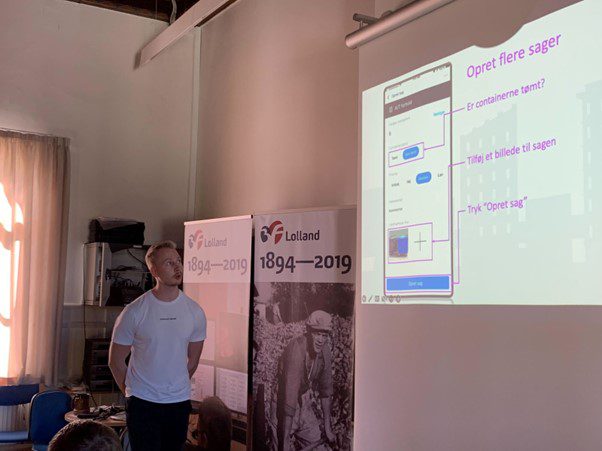 #3 Test
Som det næste skridt kan jeg godt lide at teste appen i et pilotprogram med en lille gruppe chauffører, før jeg ruller den ud til hele teamet. Det giver os mulighed for at identificere eventuelle fejl eller problemer, der skal løses, inden den fulde lancering.
#4 Support
Support er afgørende, når det er tid til den fulde lancering. I de første par dage efter at vi er gået fuldt ud i drift, vil vi være i det, vi gerne kalder hyper-care-tilstand. Hvis ledelsen godkender det, vil vi endda tage med chaufførerne ud i lastbilerne for at yde support personligt og i realtid.
Derudover vil jeg tilknytte et dedikeret supportteam til at besvare alle de spørgsmål, som chaufførerne måtte have i løbet af onboarding processen. Vi har indlejret en live support chat i vores app, så chaufførerne hurtigt kan få adgang til den hjælp, de har brug for.
Du skal løbende yde support og foretage check-ins for at sikre, at teknologien bruges til sit fulde potentiale, og for at løse eventuelle nye problemer eller bekymringer, der måtte opstå.
#5 Overvåge
Endelig skal vi overvåge fremskridtene i onboarding processen og foretage eventuelle nødvendige justeringer.
Jeg har vigtige milepæle, som jeg ønsker at opnå på hvert trin. Forstår chaufførerne fordelene? Kan de se, hvordan det vil hjælpe deres daglige arbejdsgang? Er de sikre på at kunne bruge de vigtigste funktioner i appen? Ved de, hvor de skal henvende sig for at få hjælp?
Overvågning af onboarding processen er ikke det sidste trin. Du skal overveje, om du når disse milepæle i løbet af processen, og justere i overensstemmelse hermed. Alt dette er med til at sikre, at chaufførerne er komfortable og trygge ved at bruge den nye teknologi.
Finally, we'll monitor the progress of the onboarding process and make any necessary adjustments.
Opsummering: De 5 trin til at mestre onboarding: Opsamling: De 5 trin til at mestre onboarding
Som Bjørn har fortalt os i dag, kan du, hvis du kan mestre disse 5 trin, mestre onboarding af dine chauffører til nye digitale teknologier. Ved at kommunikere, uddanne, teste, støtte og overvåge er du på rette vej til en vellykket implementering af en digital transformation.
---
Leder du efter mobil teknologi i vognen til at støtte dine chauffører i affaldsindsamling?
WasteHero har nytænkt en opdateret 360° SaaS-suite, der hjælper byer med at administrere affaldsindsamling, reducere operativ tid og engagere borgerne uden besvær.
Book et møde med WasteHero i dag!
---